Its just over a month since we moved into our new hackspace, and a lot has happened since then. We moved in with what seemed like a lot of stuff, until we saw just how little space it occupied in the new place. We were critically short of tables and chairs, and we had an awful lot of work to do to get back to a working hackspace.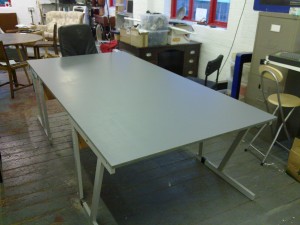 We've acquired chairs, built tables from broken desks, built workbenches from recycled wood, we have shelving to build, but things are finally starting to fit into place.
Last night we had our usual Tuesday open hack night, attended by 11 people, half them new. It was an amazing night, our lathe was dismantled to determine exactly how it should be wired, and conversations covered subjects from lighting automation to 3d printing. A staggering amount of coffee was consumed (along with a few acres of pizza), and the evening eventually came to an end just after 1am – the collective enthusiasm resulted in us simply not wanting to leave.
It's looking like we'll be taking part in the Global Hackathon this weekend, and I suspect with it's broad theme of "make something" we're very likely to be continuing to make a hackspace!
It feels like the beginning of exciting times, if you've been holding off dropping in then now's your chance to be part of something awesome – see you on Tuesday!