Under direction carve your design in Maltese limestone and cast your own pewter pin badge or button.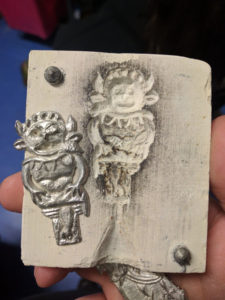 Bring along a design between 1cm and 2cm in diameter (it doesn't have to be round) and transfer it onto the soft chalk like Maltese Limestone. Be creative, perhaps a dire wolf or Darlek but remember you need to flip your image as you'll be working in reverse and in relief! Carefully carve away the stone testing your design on salt dough before finally casting it in pewter. Still not happy then carve a little more and try again until it's just right.
There will be some demonstrations on other items cast including wax seals and medieval pilgrim badges. It will be light hearted and no skill is required, sometimes the best items are the worst ones! .
How much does it cost?
Free to members. None members if you can find an old pewter tankard from a car boot or charity shop (you can usually pick them up for £1 or £2). Perhaps a family member has an old sporting tankard that's no longer wanted. The pewter is used to make events like this possible and allow me to do demonstrations for community groups for free or at little cost. If you can't find one fear not a small donation to Leeds Hack Space will suffice.
A little bit of background.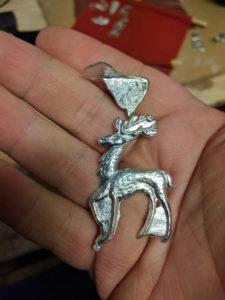 I started pewter casting as I do medieval living history reenactment and wanted to demonstrate a trade in the way it was done in the 15th Century. The stone moulds I create and techniques used are all based on evidence I've researched from the period. I'll be heating the pewter on a modern heater for the demonstration as charcoal isn't the safest indoors. If you would like to know more just ask on the day.
Join us afterwards for drinks locally – to be arranged but expect it to be well into the evening.
Space is limited so please register your place on our event page. If you need to back out then please let us know as soon as possible to free up places for others.