Yes, it sounds like the opening line to a joke, but it seems that Fligg is getting himself a bit of a reputation at our handily placed local Maplin store. More on that later.
We managed to repair the smoking power supply in our BBC Master (it just required some new capacitors – everything you could ever want to know can be found on Sprow's website). It took some fiddling to get everything set back up – we replaced the battery pack as part of the work and that required some fiddling to get all the settings in so we got BASIC instead of MOS when the machine was switched on. Sadly it seems the disk drive has seen some abuse and it won't read any disks. It also can't be heard stepping, so it's possibly jammed – something to dismantle on another day.
The other weekend highlight was Rob turning up on his Powerisers (yes, the guy that London Hackspace know as the lunatic on the unicycle owns other weird and wonderful modes of transport). Here's Fligg trying to get used to having very springy legs an extra foot long: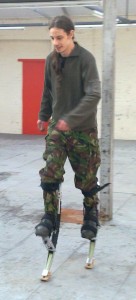 There's video available of his spectacular collapse. Bribes will be accepted for both posting or losing it.
Tuseday's hack night saw Fligg's Maplin trip hinted at in the title – where we're convinced they must now know him as the 8-bit weirdo. The quest was for a power connector to fit the CPC464. We managed to power it up, but having only a monitor which takes TTL input and an amstrad which only outputs 1V peak to peak video we found that it wouldn't sync and so we'll have to postpone further work on both the Amstrad and Commodore 64 until we have a more appropriate display.