Few posts here for three months implies nothing much as happened.
In reality we have been working hard to make the hackspace more awesome.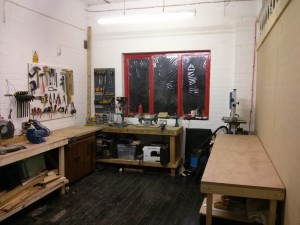 Our partition wall to separate off the workshop now has 78% more wall. We have also bought shelving, dust extraction and a door for it and they just need fitting.
Speaking of the workshop we now have 488cm more workbench, a drastic improvement over the random couple of the tables we had been using.
If you have bee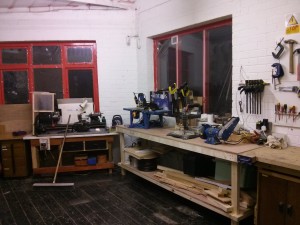 n to the hackspace in the last 2 months you will have noticed out toilet roof was falling in, this has fixed professionally so we hope to have the vinyl flooring in soon and the toilet generally spruced up.
The 3D printer has 100% more enclosure, with camera and LED strip lighting so you can watch you 30 hour long 3D prints fail disappointingly from the comfort of your own home. Unfortunately we don't yet have a way of stopping the print from afar leaving you powerless do do anything but watch it fail from the comfort of your own home but progress, right? The printer also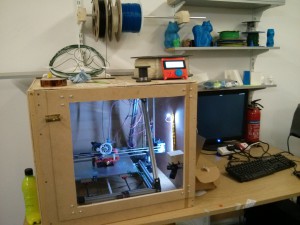 has a new control panel to print from a SD card or control the printer in a new improved way. Want to be inducted? See Joran or Japoteg.
It was said we needed a kitchen, so we built a kitchen
Mostly.
OK so we have an ongoing issue of nothing being quite finished but we are working hard to finish these things off and all the kitchen needs now is a little plumbing to get running water.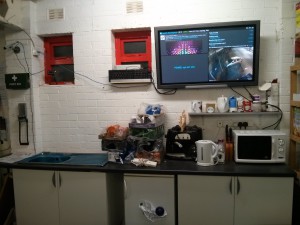 Hanging over the kitchen is Sauron (the all seeing). He shows us the latest tweets, emails form the of Google group and will soon (yes its not finished) show off the latest in out IRC chatroom. Most importantly he cycles through our camera feeds, most importantly the outside ones overlooking our entrance and the car park which have been upgraded and lighting improved.
We have added a heat press to out list of big tools, useful for making custom T-shirts after creating your design on the vinyl cutter.
Why not see for yourself? Come visit us on one of our open nights 7pm every Tuesday night
We will try and do an update on some people's personal projects soon too.
Oh and expect an update about the laser cutter in a weeks time.