We are a community / social group for hackers, makers and doers with the intention of socialising, creating, and potentially make amazing things in a space/workshop with access to tools that you may otherwise not be able to have hands-on with thanks to the contributions and communal efforts of its members.
We are entirely membership run and funded, it is a not-for-profit so every penny made goes back into providing services and facilities for its members, it is run by members for members with a little direction from appointed directors.
This means we can have amazing tools such as a laser cutter, metal lathe, computer systems, welding kit, various saws, a 3D printer or two, a vinyl cutter and a silly amount of electronics, with some quad copters thrown in.
We would love to be and do that much more, which is why you should come along to an open night and make it what you want it to be, because that's how we all started, too.
Who are Leeds Hackspace?
Paying members and directors, our members come from a range of backgrounds, have differing levels of experience and are interested in everything from woodworking to programming, to robots with lasers.
Our current directors are:
Companies House/HMRC Liaison : Fligg
Without Portfolio : Joe
Without Portfolio : Paul
Without Portfolio : Matt
Leeds Hackspace was officially incorporated in 2009 and is a group aiming to provide Leeds with a permanent not-for-profit space for learning in typical STEM topics and more. If you're unsure about what to expect form hackspaces in general, read more below, or just visit on one of our open nights.
But, what is a "Hackspace" ?
"Wait a second. I'm a Hacker, which means I enjoy playful cleverness -that's what it means to be a Hacker.
Now you may be thinking of people who break security; I call them crackers". –Dr Richard Stallman, RT Interview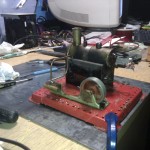 "Hack" is one of those words that's got a lot of ambiguity and bad media usage. Feel free to substitute it with "Bodge", "Tinker", "Invent", "creative recycler", Â but I highly encorage you to read "What is a Hacker" by Eric Raymond.
The Hackerspace Wikipedia entry a more in depth idea of a Hacker Space however to quote some of the other spaces:
The Garden Shed Principle

History has shown that great advances are often made in sheds.
Trevor Bayliss, James Dyson, Robert Watson-Watt, Barnes Wallis, Frank Whittle, Christopher Cockerell, Percy Shaw, Tommy Flowers and Steve Fuber – without sheds these great inventors would have lacked the environment to develop their ideas. Many great ideas originated, and continue to originate in sheds.
Leeds Hackspace is your community shed – a place to create, share ideas, pass on your skills, learn new skills and meet new people. By pulling together we can not only afford better toys and bigger spaces, but we evolve a skilled, experienced and friendly community with which to have fun and learn.
Whether you want to learn to solder, program microcontrollers, build furniture, write software, use the shared tools for your own projects or you just want to relax with a mug of tea [or properly brewed coffee] for a geeky chat we've got something for everyone.
"You know, I am sorry for the poor fellows that haven't got labs to work in." -1st Baron Rutherford of Nelson; Ernest Rutherford